Road To Urgh!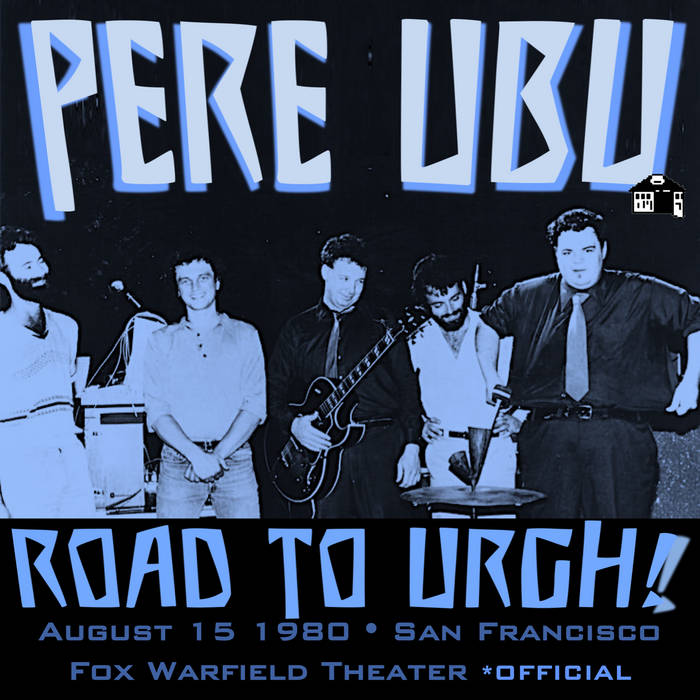 Ubu Projex - Bandcamp (Monde) - 19 juin 2021
Ubu Dance Party
Small Was Fast
The Modern Dance (Ska Version)
Misery Goat
Rhapsody In Pink
Arabia Night
Horses
Caligari's Mirror
Navvy
Humor Me
Birdies
David Thomas : voix, sifflet à glissière
Mayo Thompson : guitare, voix
Allen Ravenstine : synthétiseurs
Scott Krauss : batterie
Tony Maimone : basse, voix
Mastérisation 2021 : David Thomas
Enregistrement
Enregistré le 15 août 1980 au Fox Warfield Theatre de San Fransisco (USA) lors du Art Of Walking Tour, cadre des premières apparitions en concert de Mayo Thompson avec Pere Ubu.
Le lendemain, Pere Ubu jouait au Santa Monica Civic Auditorium pour un des concerts de la tournée intitulée Urgh! et organisée par Miles Copeland. Un dvd, Urgh! A Music War" où figure le titre Birdies, en a été tiré. Mais, Mr Thomas indique que le concert du Fox Warfield Theatre était plus énergique.
Mastérisé d'après la cassette originale enregistrée par le groupe.
Editions
| Label | Référence | Pays | Date | | Commentaires |
| --- | --- | --- | --- | --- | --- |
| Ubu Projex - Bandcamp | - | Monde | 19 juin 2021 | dl | |
Disponible sur Bandcamp.
Ce concert est également disponible en cd, disque semi-officiel, sorti sans l'accord du groupe et pour lequel il n'a jamais reçu le moindre sou : Live ... Fox Warfield '80. La source est probablement différente.

© 2021 Charlie Dontsurf