The Shape Of Things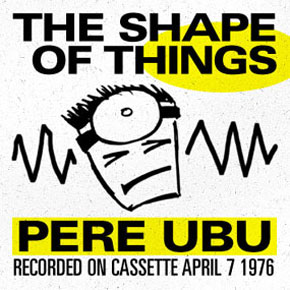 Hearpen / HR 113 (US), Octobre 2000
Heart Of Darkness
Cloud 149
Gone Gone Gone
30 Seconds Over Tokyo
Life Stinks
Final Solution
Pushin Too Hard
The Way She Looks
Doris Day Sings Sentimental Journey
Can't Believe It
I Wanna Be Your Dog
Heroin
David Thomas : voix
Tom Herman : guitare, basse, voix
Peter Laughner : guitare, voix
Dave Taylor : synthétiseurs, organ
Tim Wright : guitare, basse
Scott Krauss : batterie
Heart Of Darkness (Thomas - Herman - Krauss - Laughner - Wright)
Cloud 149, Gone Gone Gone, The Way She Looks, Doris Day Sings Sentimental Journey & Can't Believe It (Thomas - Herman - Krauss - Laughner - Taylor - Wright)
30 Seconds Over Tokyo (Thomas - Laughner - O'Connor)
Life Stinks (Laughner)
I Wanna Be Your Dog (Alexander - Asheton - Asheton)
Heroin (Reed)
Pushin Too Hard (Saxon)
Mastérisation (Suma): Paul Hamann
Graphisme : John Thompson
Enregistrement
Enregistré sur cassette le 7 avril 1976 à The Mistake, Cleveland. Jim Jones a enregistré le premier show du soir et la source du second est inconnue. Il y a une incertitude quant à la date réelle du concert : une des cassettes indique le 5 mai. Toutefois, il s'agit probablement du 7 avril si on en croit l'annonce, au cours du show, de la sortie imminente du second single Final Solution.

Can't Believe It, The Way She Looks (Over My Head) & Doris Day Sings Sentimental Journey (Sentimental Journey) figurent également sur 390 Degrees Of Simulated Stereo.
Gone Gone Gone est une première version de "Street Waves".
Editions
| Label | Référence | Pays | Date | | Commentaires |
| --- | --- | --- | --- | --- | --- |
| Cooking Vinyl | Cook CD 185 | UK | 22/08/1999 | cd | |
| S4 | 496448 2 | Italie | 1999 | cd | |
| Thirsty Ear | thi57074.2 | US | 24/08/1999 | cd | |
| Bomba | BOM22108 | Japon | 24/10/1999 | cd | |
| Hearpen.com | HR113 | USA | 2008 | mp3 | |
Chroniques

© 2020 Charlie Dontsurf