Pale Orchestra conducted by David Thomas : Mirror Man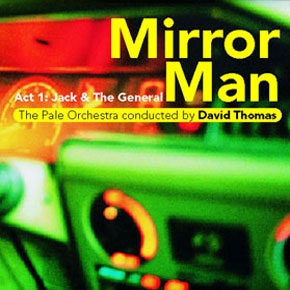 Cooking Vinyl / COOK CD 175 (UK), 1999
Mirror Man Sees
Mirror Man Speaks
Lost Nation Road
The Flying Dutchman Of The Interstate
Ballad Of Florida
Montana
Ribbons On The Road
Morbid Sky
Nowheresville
Shadows On The Face
Memphis
Over The Moon
If The Deer Blinks
Bus Called Happiness
Weird Cornfields
Textes
David Thomas : chant, accordéon
Bob Holman : poète
Linda Thompson : chant
Robert Kidney : chant
Jackie Leven : chant
Daved Hild : chant
Jane Bom-Bane : chant
Keith Moliné : guitare
Andy Diagram : trompette, électronique
Peter Hammill : guitare, claviers, harmonium
Jack Kidney : harmonica, saxophone
Chris Cutler : batterie
Titres :
(1) Thomas
(2) Holman
(3, 11, 12 & 14) Pere Ubu
(4) Hild - Moliné - Diagram
(5) Carney - Hild - Kramer
(6) Thomas - Jones - Temple - Krauss - Yellin
(7) Bom-Bane - Moliné - Diagram
(8) Thomas - Moliné
(9 & 15) Thomas - Moliné - Diagram
(10) R. Kidney - Moliné - Diagram
(13) Thomas - Moliné - Diagram - Cutler

Mixage : David Thomas
Ingénieur du son mixage : Paul Hamann
Studio de mixage : Suma Studios (Paisneville/Ohio)
Ingénieur du son Concert : Dids
Graphisme : John Thompson

Enregistrement
Enregistré live le 3 avril 1998 au Queen Elizabeth Hall (Londres).
Overdubs sur Montana enregistrés dans la cuisine de David Thomas et la partie d'harmonium de Peter Hammill à Bath (Angleterre).
Portions enregistrées au studio de répétition The Ritz (Putney) le 18 juillet 1998 et à la Knitting Factory (New York) le 11 septembre 1998.
Mixé par David Thomas avec Paul Hamann au studio Suma le 15 septembre et du 15 au 18 décembre 1998.
Mirror Man est un spectacle musical créé par David Thomas sur demande du South Bank Centre (Londres) et joué sur la scène du Queen Elizabeth Hall dans le cadre du festival David Thomas : Disastodrome !. Le disque présente le 1er acte, appelé Jack & The General, des deux que comporte la pièce. Le second acte a été un temps disponible sur Hearpen.com, Mirror Man / Act 2 : Bay City (HR142).
Editions
| Label | Référence | Pays | Date | | Commentaires |
| --- | --- | --- | --- | --- | --- |
| Cooking Vinyl | COOK CD175 | UK | 22/03/1999 | cd | |
| Bomba | BOM22097 | Japon | 25/04/1999 | cd | |
| Penguin | COOK CD175 | Grèce | Avril 1999 | cd | |
| Cooking Vinyl | CKV 13652 | Italie | 1999 | cd | |
| Musidisc | 128 832 | France | 06/04/1999 | cd | |
| Thirsty Ear | thi 57068.2 | US | 22/06/1999 | cd | |
Chroniques

© 2021 Charlie Dontsurf