The U-Men / Don't Expect Art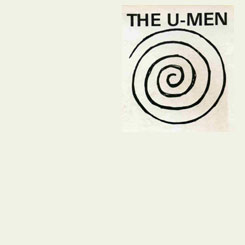 Tri-City Records (US), 1979
Hard To Start (Heart Of Darkness)
No Problem (Heaven)
Mad Doctor (Modern Dance)
491 (Drinking Wine Spodyody)
Help Me (Humor Me)
First World War (I Will Wait)
Random Ages (Real World)
My Back Ages (My Dark Ages)
Doris Day Sings (Sentimental Journey)
Little Skunks (Life Stinks)
David Thomas : voix, percussion
Tom Herman : guitare
Allen Ravenstine : synthétiseurs EML
Tony Maimone : basse
Scott Krauss : batterie
Enregistrement
Titres enregistrés en 1977 au Pirate's Cove de Cleveland sauf "I Will Wait" qui provient d'un concert au Real World Theater de Lakewood (Ohio) le 13 octobre 1978.
Les notes de pochette indiquent pour la face 1, X-Mas Concert At Interstate Mall et pour la face 2, Live At Club WoW. Ces deux lieux n'ont jamais existé.
Pour les premiers exemplaires, ont été utilisées des pochettes de l'album promo Horses de Patti Smith sur lesquelles, au recto, était collée une feuille avec le faux nom de groupe et, au verso, une autre feuille indique les titres déguisés, dans la bonne vieille tradition des disques pirates. Les suivants ont eu droit à une pochette blanche et vierge et les mêmes feuilles collées.
100 exemplaires de The U-Men auraient été pressés. Pirate semi-officiel orchestré par Johnny "Dromette" Thompson, l'homme derrière de nombreuses pochettes et autres réalisations graphiques du groupe. Pour l'histoire complète de ce pirate, écoutez le UbuDub podcast #8 dans lequel John Thompson est interwievé.
Editions
| Label | Référence | Pays | Date | | Commentaires |
| --- | --- | --- | --- | --- | --- |
| Tri-City Records | | US | 1979 | lp | |
| Impossible Recordworks | IMP1-07 | US | 1980 | lp | "Don't Expect Art" |
| Hearpen.com | HR131 | US/ROW | | dl | |
| Hearpen - Ubu Projex | HR211 | Monde | Avril 2020 | dl | |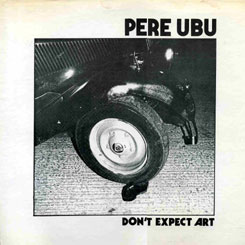 Don't Expect Art (1979)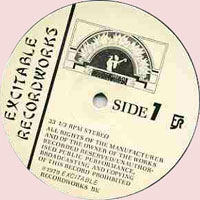 Etiquette centrale de Don't Expect Art
Le pirate The U-Men a été re-piraté sous le nom Don't Expect Art en 1980 sur "Impossible Recordworks". Sur l'étiquette centrale du disque, le nom du label passe de "Impossible" à "Excitable" !
A son tour, le groupe a piraté les pirates en mettant l'album en ligne en version digitale sur son propre site, Hearpen.com, puis sur la Ubutique.

© 2021 Charlie Dontsurf